Monday, February 27, 2006
6:32 PM
I tried to take a nap in the afternoon, but failed miserably. I spent the whole time staring at my wall and lamenting on how quickly the weekend came and went. So now its the beginning of another week, and here I am again on Monday, wishing for the weekend. BLEEEHHHHHH when will this cycle endddddd !!
Anyway - my weekend was busy busy busy. I went to Starbucks for breakfast because I haven't seen the Starbucks kids in a while. I personally feel the best time to go to that well-loved corporate coffee chain monster is in the morning where no one's around and business hasn't gotten busy yet. Then you can lounge on the armchairs and talk on the top of your voice, and in my case, accidentally spit water at a barista when I burst out laughing. =_='
I've been wanting to go to
numbereight
for ages now. I thought the concept of a budget guesthouse with chic furnishings was great, and the fact that they renovated a colonial shophouse only added to my fondness for the place. I mean seriously, KL's nothing but a concrete jungle now and everything is so .. cement and glass. Impressive looking buildings. There's something about colonial shophouses that make me happy happy; I think it's just the nostalgia.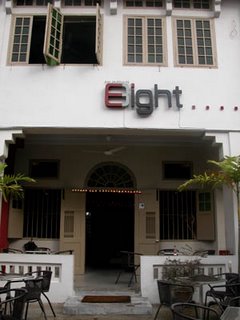 Looking back, it feels sorta like the whole weekend had a Colonial theme or something because we had dinner at Coleseum. I love that freaking place. The steaks are still so bloody good ...
OMG WHAT IS IN THAT SAUCE?
I was so disappointed when my waiter took my sizzling plate away because I had secret intentions of dunking my Hainanese bread (sooooo yummy with butter) into it and ssssavouring it. Bloody efficient waiter, hmph.
Responded to meesh's SOS of "GET TO ZOUK SOON OR ELSE!" .. so we went, under the guise of "company function."
I think I'm the only blur idiot to never have noticed that Zouk's "molar" changes colour! I was asking everyone whether my eyes were deceiving me when I viewed the photos! I dunno where I've been lah okay, don't ask.
The "company function" got redirected to The Loft and I found myself out of touch with hip hop music, the shame! Didn't know who sang what anymore, except the really popular ones like BEP or Beyonce. So most of the time, we were sitting there, play cool and bounce our heads like chickens.
Himbo cannot dance!!
Therefore, we camwhored. Sorta.
The weird thing was that we actually got up even before the alarm rang the next morning. We've been trained to wake up early cos of school and work lah. Which actually works to our favour cos we could have a nice, slow breakfast and take in the early morning surroundings. Breakfast is the most calming meal of the day people, try not to miss it!
Gah, I can't believe I just did one of those "what I did over the weekend" posts. Mind you, they actually take more effort than my usual posts!! Anyway I guess you can tell with the barrage of photos who got their digicam back eh? The old saying stays:
have camera, will shoot
.
And that dear readers, was my totally normal but personally fab weekend <3