Monday, April 11, 2005
Before I go on and write about how I spent my Saturday cuci-ing mata, let me just say that I
aced my second interview
. Yes, thank you thank you, congratulations at the
door
inbox, please. Soon, I will have to undergo training before I become the person who makes you human before you start the day. Oooh I cannot wait. Sort of like playing God. Or, dangling the Elixir of Life in front of a non-morning person. ALL WILL BOW TO ME AND MY COFFEE!!
Back to the topic of post. For the first time ever, I went for the preview of CLEO's 50 Most Eligible Bachelors. For those of you not in the know, this is the closest thing Malaysia has to Miss Malaysia/World (or /Universe, even /Tourism sometimes). But without bulging muscles
and steroids
of Mr Malaysia. Well you get the idea.
50 Average Joes are chosen by CLEO magazine, although I'm not sure what the criterias are. I suppose, looks would factor of course. As well as, the guy's career, his personality, etc. I wouldn't know, I merely ogle.
My friends and I went because one of our friends, and our ex-lecturer, is one of the Bachelors this year. I thought it would be a good opportunity to support him, as well as a good coverline when harassed with comments about being shallow. Heeh. But really, I wanted to check the event out having seen pictures of it in CLEOs of the past.
The event started off with a fashion show by Levi's, previewing their Spring/Summer collection. So the men in the audience wouldn't feel left out from the upcoming ogling session, I suppose.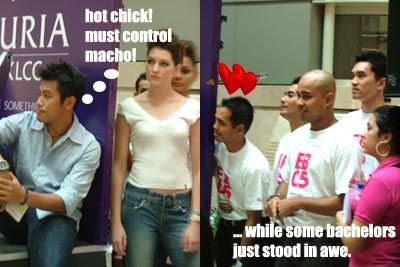 I was really surprised by how quickly the crowd filled up. One minute I had space to do a little dance number, and the next, I was being pushed aside by bitchy, short idiot girl in red. She pushed herself in front of Josh, and then pushed in front of Krystle, and finally pushed me aside. When talking about the crowd at lunch, the three of us had a moment of bonding when we all realized that we've been bullied by a girl who seemed 4 feet 5.

What happened on stage was pretty corny. They had some Q & As where some girls could ask the bachelor of their choice a question (example- Q:"What is the most exhilirating moment in your life?" A:"Oh I would have to say falling in love." Waaah. Bring in bunnies, a pretty field of tulips and Bambi for good measure, pls.). They played some Match the Watch game. A few bachelors pitted their masculinity against each other with push-ups (in 30 seconds, one did 45. Just want to confirm if thats possible because if it is, 'tis amazing). Someone was serenaded by Bachelor #1. There's always seranading, I believe, judging from photos of past previews.

James Baum (right) performed his song,
Skirts
and a cover version of Usher's
You Got It Bad
. He's pretty good live. As you can see from his t-shirt, he's one of the Bachelors as well.
What're songs without dance?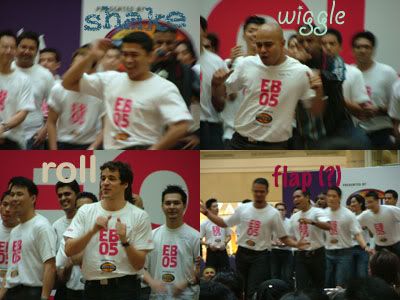 Reshmonu performed, and he did a great job. The man's dynamite! Can't help but like Reshmonu, he radiates warmth somehow. He brought the event to a close, the Bachelors grouped and posed for some magazine shots, and later on fans were allowed to mingle and take photos with their eye candy, take autographs, grope them .. y'know, the usuals. :D
All in all, it was a pretty fun event. All Bachelors looked better in real life, and watching 2 white men do the Bhangra to
Hey Wally
was a sight not to be missed. It was so cute how they did it, haha!
Anyway I'm freaking tired, can't be arsed to elaborate the details. Til next time, here's a photo of us minutes before I got jabbed in the eye by Josh and spent 15 minutes tearing and looking like he just dumped me over lunch.