Tuesday, February 01, 2005
2 days after coming home to my 'tanah tumpah darahku', and I'm still in a state of sleepinees, yawning and stretching whenever I can get away with it. As you can probably guessed, I didn't get to sleep much when I was in HK. Why sleep when there's a whole new world out there, my mind reasoned. Plus, winter days and nights seem to drag on longer than usual, so when I was pooped at 9 PM, I couldn't possibly let myself go to bed when there's soooo much to explore. So here I am, back home in Malaysia, perpetually sleepy and having an exam tomorrow!
But Hong Kong was wonderful! I thoroughly enjoyed my time there, from the eating, to the walking, to the shopping. All activities very pleasant of course. Food there is so so fantastic, Malaysian-Cantonese fare can't really compare. Walking is an activity of leisure not of great sweating and grunting, because the weather averaged around 17-20º C. Walk one mile? No problem! Shopping is dirt cheap there (think 2 bags for RM40) and
variety
is the key word. On the same street, you can get budget buys and things from Nine West, Prada, and the likes. Woah. My shopaholic self was spinning in delirium.
So it was a great, eye-opening 4 days and it's hard to sum it up with pictures and words alone. But I'll try so here's a summary of the four days, and there will be an amount of pictures to follow so
you have been warned
, dial-uppers!
Day One (27/1/2005)
Left for KLIA right after class ended. The college sent a van to pick us up, and the driver was fanatical. It was the shortest ride to the airport I had ever got on. I think we got there in about 30 mins? There we were having a conversation, and making fun of Matty when we look out the window and KLIA was looming above us.
The flight was good, I reckon. I was sitting there watching
Garden State
, with a perfectly mixed Screwdriver in my hand, and they served us Haegan Daz ice-cream for dessert. AHH, this is the life.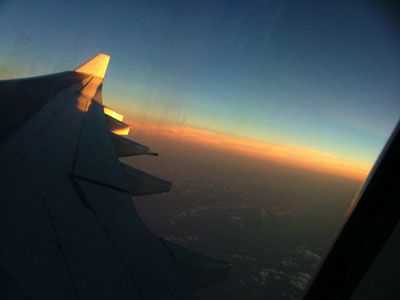 Fastforward all that- we finally reached HK, got on the bus to our hotel in Kowloon. At first it was just highway highway highway, where the heck was
Hong Kong
?
And then.. from a far distance... we saw.. lights! Just blindings neon lights, illuminating from a distance. Like some sort of beacon, welcome to HK sign. Me and meesh were giddy with excitement! We've arrived!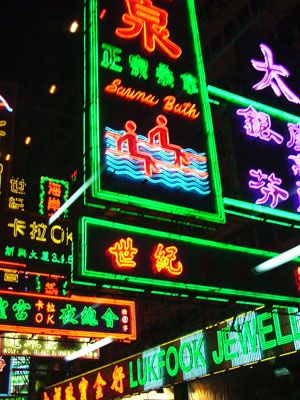 I practically pressed my nose against the bus window, taking in the sights and the people. It was 12 AM, and there were thousands of people milling around the streets, and all stores were still open. What is this, I wondered, don't they have to work? Nevermind. I was dying to get to the hotel, change and have some sort of supper because was starving.
Our hotel was the last stop, and we were in a place described in our guidebook as
"the cancer of Kowloon"
. It became a running joke throughout the whole trip. Basically, we were situated in a place where there triads ruled, and there were unlicensed sweatshops (which we didn't see, naturally) hidden in places.
Thankfully though, our hotel was niceeee. Me and meesh stayed in, what we called, the "Sex Room", because it looked like it came out of a porn movie.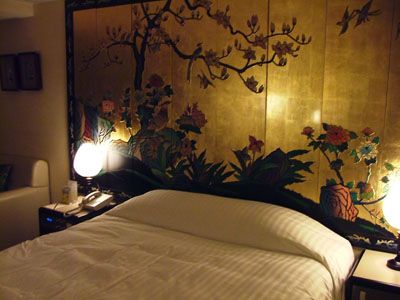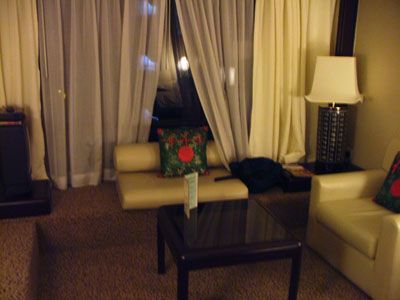 There was PPV porn on TV, but it HK$90 per movie so we contented ourselves with watching the free previews. Heh heh. Went out for supper at a stall around the corner, and had some wantons the size of a small ball, stuffed with 3-5 prawns. Fanfuckingtastic. Couldn't sleep because was so excited, and because meesh horded the sheets and snored. :D
Day 2 (28/1/2005)
Hurrah, a whole day to ourselves! Took a cab with an intention of going somewhere, but had no idea where to go. Our cabbie spoke great English (and cursed well in Japanese), and gave us a few places we should go. He suggested Nathan Road for shopping, and Canton Road for our brunch. Had no idea where these places were, but okay!
meesh asked him about clubs in HK.
Cabbie: Lots of clubs in HK, but what type do you like.. like heroin or cocaine?
Us at the back: *horror stricken*
Dr Irene (lecturer): I'm not listening to this! *puts hands to ears, for real*
meesh: No no no- just alcohol and music! Alcohol and music!
Hmm. So it seemed like our cabbie has great knowledge of HK's underbelly.
Lunch was various type of balls (mine was some "burst ball" thing) in soup with noodles and it was very, very good. Regina, person who has a bottomless stomach (Penangite la!), actually proclaimed, "I'm stuffed" after her meal of chee cheong fun with prawns.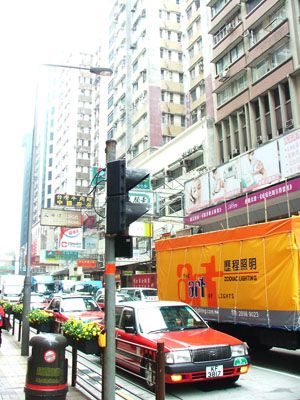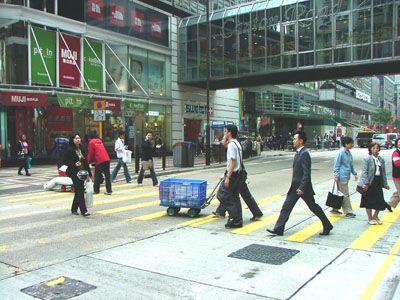 Canton Road, lots of people all the time. High end brands are common here.
Following Regina, appointed navigator because she's the only one who understands maps, we made our way to Nathan Road, aka as the Golden Mile. It's a looong stretch of road with various sorts of businesses on both sides. You can get almost everything you want here. Restaurants, mosques, clothing stores, souvenir shops, etc. The 3 of us (Regina, meesh and I.. Matty and Dr I went their seperate ways) were mostly around the area near the Chungking Mansions because all the budget stuff were there. And things were CHEAP. We went into the the inner stores, where hawkers ranged from Chinese, to Indians, to Africans were all setting up their businesses. It was great. Malay came in handy during haggling wars, hehheh.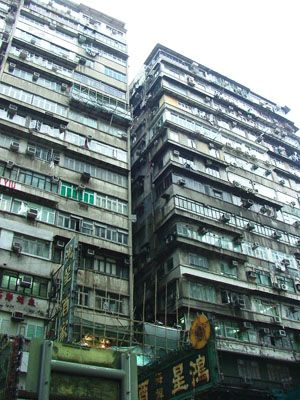 Chungking Mansions, I don't know why they're called mansions. But they're these rundown blocks which house a lot of foreign citizens (mostly Indians).
Bamboo scaffolding!
After much shopping, we headed to the Hong Kong Cultural Center which has a nice view of HK Island's skyline. Unfortunately it was foggy, so the view wasn't as fantastic.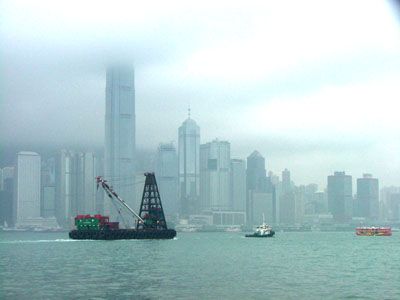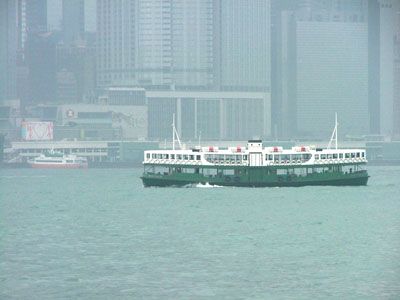 The one thing I regretted not doing: getting on the Star Ferry to HK Island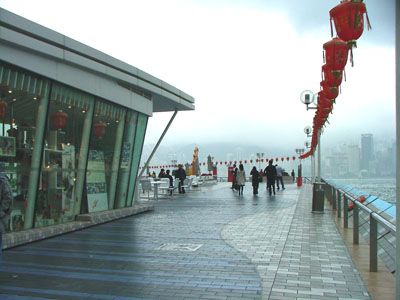 This is where many TVB serials are shot with estranged lovers breaking up, or getting back together overlooking the skyline. :p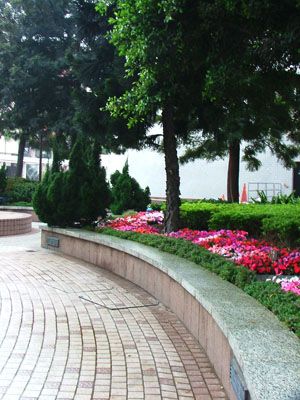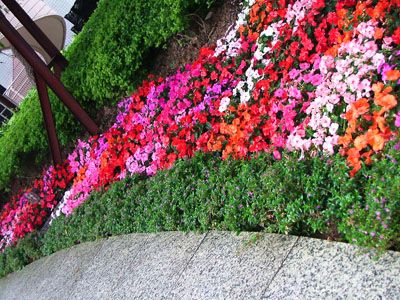 How do your flowers grow?
We took a cab back home since we were so tired with the walking. We left at 10.30 AM, and after ALLLLLLLL that activity- it was only 4 blinking PM! Yay to long winter days! That only means more time to walk around later.
Had an early dinner around the area where the hotel was located. Seafood + rice + other dishes = damn full. Walked around, exploring the area before we went back to the hotel for our complimentary drinks.
A typical store in Kowloon
Everyone was tired at 9.15 PM, but me and meesh decided to go downtown and walk around just for the fun of it. Succesfully managed to take one of them double decker buses (and sat on top!), and also met this HK guy named George who so nicely walked us to this pub meesh wanted to go to. We asked him why there's so much activity even at 12 AM, and he just said, "that's early for Hong Kong people!"
Was slighty buzzing after my magarita, and suddenly found the idea of paying HK$20 for a bowl of nuts to be a matter of great amusement instead of great waste. We laughed over a deformed nut which I dared meesh to eat and it turned out to be a raisin, to which we laughed (yet again! Will the madness ever stop!) and pitied the damn thing for being called deformed.
Walked around more, had fishballs on a stick and took a cab home. Great night.
Day 3 (29/1/2005)
Can't remember much of this day as it was Conference day. Was scared shitless so forgot to take pictures of us wandering around the Hong Kong Institute of Education. Felt a little out of place, with all the professors and intellectuals milling around talking about their research. And our topic of conversation? The wonders of a third arm transplant that'll make holding cups and plates easier. Ohgodwearesoscrewed.
Surprisingly, our presentation went great and the audience was very intrigued with our ideas. They told our lecturer that we were "so bright" and "so good" and that she "must be proud of them" .. we were all greatly amused. If only they could see us in our spare time, talking about a deformed nut.
Went out again at night, for more shopping. Got off the bus too soon and had to walk a blinking mile to reach the shops we wanted. FINALLY understood the significance of "THE GOLDEN MILE." Bloody hell!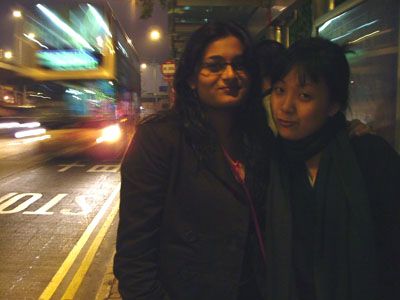 meesh and Regina at the bus, posing for my picture.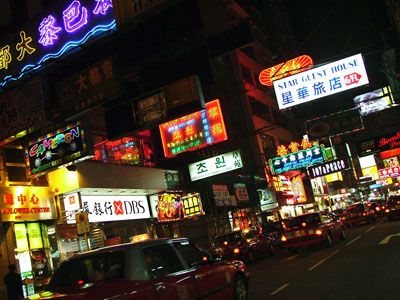 All the time we were in HK, we used the term "orang bertiga" to talk about the triads for fear that some member would undertand us and proceed to chop us into little pieces. Esp around our hotel area! It's really scary because there are some people who are SO OBVIOUSLY triad members! I was waiting in line at 7-11, when this buff guy in a ponytail walks in and the cashier goes, "Weng kor!" (Brother Weng). Paid for my wine cooler and ran out of the shop.
So. Here's a picture of us trying to be part of the triads, on the steps of Kowloon City Park.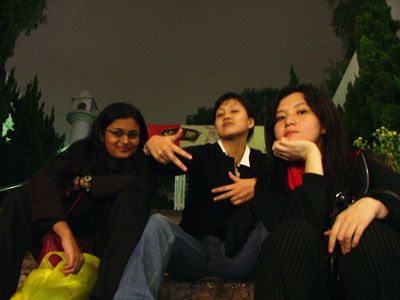 Wow. We're a bunch of intimidating biatches, aren't we. :S
Day 4 (30/1/2005)
LAST DAY!
meesh: Won't it be nice if we just ran away from the group?
me: How would we survive?
meesh: I could prostitute myself near the Chungking Mansions.
me: You'd be a hit with the Indian men, I tell ya,
meesh: And we could play you up as a Korean-Jap prostitute as well! We'll move in with George in his HK$7000 a month apartment!
me: Can you believe that THIS is wishful thinking?!! What's wrong with us?!
Had last breakfast as authentically as possible, with congee and
yau char kway
in a quaint little shop. Their
char kways
are huuuuuuuge, and taste a bit better than the ones I'm used to. Grab one last egg tart to go, and savoured it all the bus home. Felt very sad to leave HK.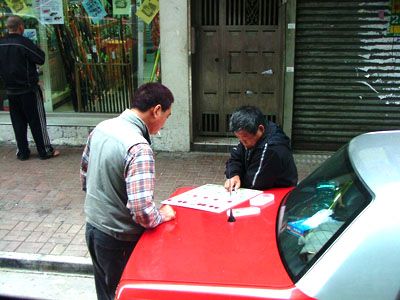 Saw this on the bus to the airport
Checked in. Walked around. Bought chocolates for my brother, before kicking myself when I saw a Maxim in a bookshop. He would have loveeed that. Got on the plane.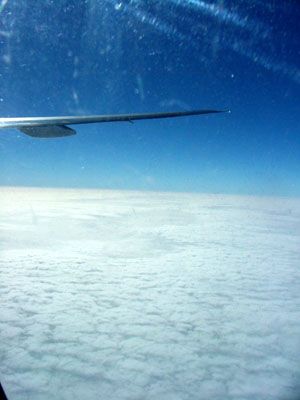 And was home.