Wednesday, December 08, 2004
Hellos all. I've had a fairly busy week. So far. Just gonna type one out really quick and simple because it's 15 minutes before
The Amazing Race
and if you know me, you'd know I'd never miss that.
I have rubberbands in between my molars right now, in preparation for the metal that will be coming in soon-ish. It hurts like a biatch now! I was huffy and smug when my orthodontist put them in because I didn't feel much pain. In fact my mouth felt really normal. "Hah!", I thought, "what pain is everyone talking about? I feel no pain! Huargh (*supposed domineering growl)! I am woman, hear me roar! Etc."
But apparently my smugness have turned around and bitten me firmly on my arse because I cannot eat right now. Well, I
can
eat. I guess the more appropriate term would be that I find it really difficult to chew food. So for two days now I haven't had any solid food. Last night's dinner was bowls of soup and today for lunch I
tahpau
ed a styrofoam box filled with tau foo, cooked in different varieties and oh yes, brinjal (love them mushy purple things). No rice because the thought of chewing makes me sick. But it's all good with me because I'm fanatical about tau foo. Really. Whenever I can, I always have some taufoo on my plate.
Meesh looked at my lunch and said, "Hah! You wait la, you're gonna be skinny by the end of all this."
(Hur hur hur. And exactly what's so wrong with that eh? Eh? Eh? ;) )
Today's Communiction and Culture class was fcking amazing. To usher in topic 3, which was about subcultures and pop cultures, we watched a documentary about the rise of the grunge scene out of Seattle in the 90s. I've never had a class more entertaining. There we were watching Nirvana's first gig and their first performance for
Smells Like Teen Spirit
, and these grunge rockers remarking how stupid it was that grunge became the IT FASHION because
they
wore flannel and long johns because it's freaking cold in Seattle, whilst everyone else is wearing it for the fashion. USD$300 for a flannel shirt? Insane!
On the past Saturday, I even went for a Punjabi wedding dinner. Great experience. I've only ever been to Chinese wedding dinners, so I was quite relieved that there was NO karaoke by drunken, old men. There were however, drunken old men. Period. Dancing and shakin' that thang. Haha. Them Punjabis sure know how to have shitloads of fun. There was a Bhangra dance performance (where Meesh and Ash showed off their moves), and later- A DANCEFLOOR. AUGH WHY DON'T WE CHINESE HAVE THAT? My dancing was definitely overshadowed by the amazing gyrations of the other people on the floor. Eventually it was funner to sit back and watch, because my Chinese hips just could not take the vigorous sh-sh-shaking.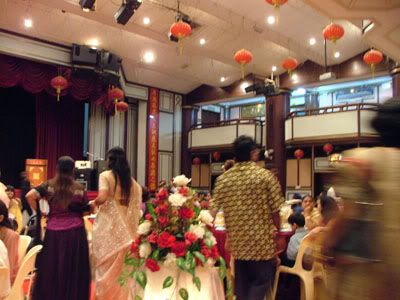 They had the dinner at Thean Hou Temple near Seputeh. Talk about muhibbah spirit :D! Hall looked great.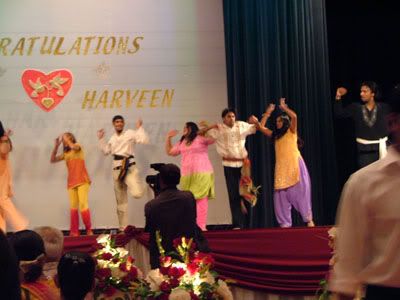 Bhangra performance. You can spot Meesh and Ash... if you know how they look like la.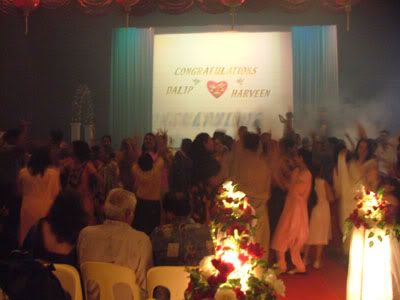 Check it out la, damn fun. There were 700+ people present, but I don't know how many were on the dancefloor.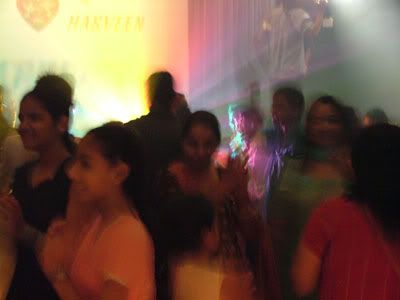 Like a scene from a club.
I was spinning free, woah... with a little sweet and simple numbing me. Stumble till you drop, woah.. sinking into sweet uncertainty
>> "Sweetness", by
Jimmy Eat World
.