Monday, November 15, 2004
Haha, I so don't know if I got the lyrics right. I tend to change frequencies everytime a Raya song comes about. Festive songs get on my nerves, be it Hari Raya ones or Chinese New Year ones. CNY ones are particularly deranged- especially the ones with a troop of little kids screaming on top of their lungs, banking in on the "cute" factor to mask the fact that they can't sing. At all. For physical evidence of this, please tune into Wah Lai Toi (channel 30 on ASTRO) come CNY.
Woke up bright and early today (well, it was still morning at least) and got ready to visit my lecturer's place all the way in Bangi. Well worth the half hour car ride though- his place is beautiful and the food, so damn good. Walloped the usual Raya goodies: lemang, ketupat, rendang, chicken curry and the nyonya kuihs. Caught up with some familiar faces from the Mass Comm. faculty of Taylor's. I heard that there's this famous, well-known TV personality enrolled in the degree program .. very well-connected and all.. but no one wanted to tell me who it was! It's supposed to be a surprise. Now Nov 17 is looking more and more interesting. (I start my degree on the 17th)
Headed to Pyramid a few hours later, with the main intention of catching
The Incredibles
. I've never seen Pyramid so crowded before. Had to wait in line for 20 minutes, all the time looking at the screens to see the availability for the movie. Was observing with such intensity that I probably resembled a broker at the stock exchange. Grew alarmed at the amount of kids running around the lines, ducking under the barriers, removing said barriers and dropping it to the floor.
More kids = probably watching animated movie, which could be either
The Incredibles
or
Shark Tale
. Was
allllllmost
at the counter when this family of four waddled to the counter and said "FOUR TICKETS TO THE INCREDIBLES!!", when all hope faltered. Sure enough when it was our turn, only seats left were the first row before the screen. So lemme see: have to twist head in most uncomfortable manner PLUS got a whole cinema filled with little kids, running around, crying, asking "Mummy who is that fat man?" ..
Left the counter with no tickets.
So we sat at McDs, also packed to the brim, and ate our sundaes. It was so packed that our first table was cornered by dustbins at both ends. Great location I tell ya, fresh burger smells. Eventually moved to a table which overlooked Sunway Lagoon and whatdayaknow.. Lagoon was also packed, despite it drizzling slightly.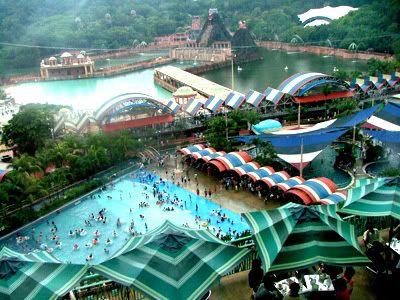 So this was how Lagoon looked like from our table. Quite a popular place on public holidays eh. Wonder how it survives. On weekdays and normal weekends the place is quite dead. This is the first time seeing it so .. happening.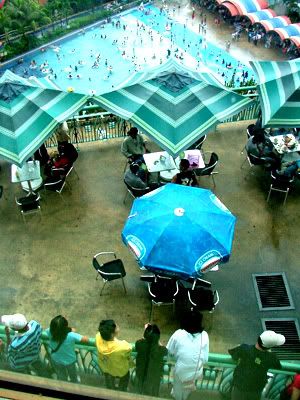 It was drizzling, yet this open air, al fresco like cafe was doing quite good business. People enjoying the view I guess .. view probably meaning women in swimsuits. HEE.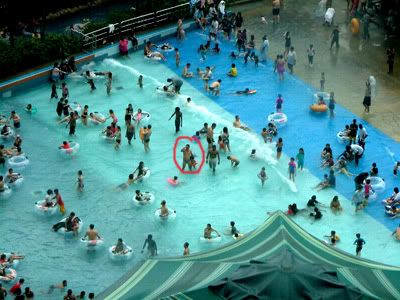 In certain cases, view could also mean an image of a man with Happy Belly donning reeeeeeaaaaaaaaallllllllllllly small trunks.
Had dinner at Manhattan Fish Market, did some window shopping (SALE EVERYWHERE MUST RESIST!) and came home. I had fun- doesn't take much to make me smile eh! And I'm watching
The Incredibles
Tuesday at OU. Whee.
Tomorrow's a public holiday so that's good news for everyone eh. So smile la. :)