Tuesday, October 12, 2004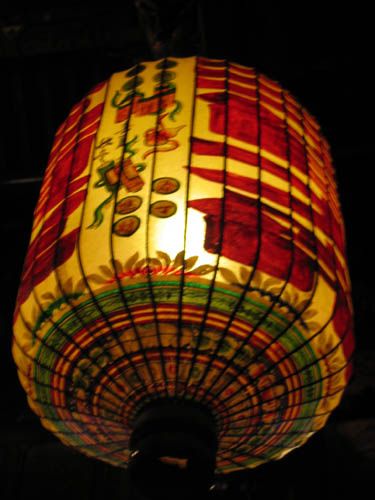 Lantern @ Khoo Kongsi, Penang
These days, I find it difficult to be very happy about one thing for an extended period of time. Things that make me happy, are typically just a temporary, passing thing. I know when it starts, and I can predict when it'll go away. And I hang on to every single thread that it leaves while its passing, because I want to savour the moment while its still here, and while it still is my Present. The Past is hopeless to dwell upon, and memories of it makes it an even bitter pill to swallow.
I've been too contemplative today for my own good. I'm trying to straighten out the mess in my mind by typing it out, but so far today's post hasn't been my easiest work. There's so much to say, yet so much more that I'm afraid of revealing. Trying to keep within my limits is so difficult, when this blog becomes so personal to me that I feel such an urge to pour everything out. Sometimes I feel like I should pull a
meesh
and keep my whereabouts a secret. And just let it all come out, in all its heinous honesty.
This morning, I got dressed thinking that I could just go for that one replacement Econs class, and then come home. Instead, I came to college and was greeted by some surprising news. In a sense, it was good news but on the other hand, it makes things complicated for the parties involved. It's a dangerous mix of conflicting emotions- you can't have those moments of joy without the questions and confusion that will surely come later.
Relationships scare the hell out of me, and I can safely assume that they scare my group of friends. As you grow older, relationships become more than just going out and holding hands. It's not as easy as, "Can you be my girlfriend?" and a positive answer later, you guys are a couple. Relationships are so grey now- neither yes or no. It used to be nice game of playing it cool, or playing hard to get- now
honesty
is what you live for. It's so ... out of the box now, that it's scary. I sometimes lie in bed after tossing and turning, thinking about the situation I am in, and scare the shit out of myself with the possibilities of it going all wrong.
I suppose that's why having courage is so essential in everything you do. From going for your dream, to something as
seemingly
trivial as relationships .. you have to be brave in making a decision, and having optimisim that it'll turn out okay. I don't know why people (girls, especially) are belittled and ridiculed for having a preoccupation with their relationships, because HELL, relationships are the hardest things in the world. You can't just worry about yourself, you have to take care of the other person as well. A two way street, as they say. You scratch my back, I'll scratch yours, what they don't always say. ;)
Typing out this post has been difficult, and I fear that by doing so I've somehow let on about how vulnerable I feel at times regarding life and love. It's scary, this side of me, I know and I intentionally keep it hidden away because I fear people thinking I'm this stupid 19 year old with a complex and insecurities. I am that to a certain extent, but no worries- I handle it well and am able to function in social events involving normal people. :p
As for my favourite girls- you know we're all interdependant on each other. It's a beautiful symbiosis, what we have. Things are fcking confusing right now, we all know, but we have each other. We'll bitch, and make jokes, and be all
ourselves
about it, and it won't seem too bad. It seems like we're all grasping in the dark for an answer now, but a higher power will slowly shine some light upon us.
<333333