Monday, September 13, 2004
I spent 12 hours in college today.
12 freaking hours
. That should be outlawed, shouldn't it? I didn't really have a choice. There were things that needed to be done, and I really couldn't leave my friends with so much work on their hands.
Now I'm back home and still, I feel so restless with the amount of work that I have piled up in my imaginary IN tray. I know I should be getting on with my article about
Skype
, or even the one about
Music Canteen
, but I'm so fcking tired and stoned right now that all I want to do is lie on the couch and watch a really long movie filled with spectacular stunts and escapist romance.
But I know I can't afford to waste 2 hours, so I go back to Old Faitful (the Internet), throw my laundry into the washing machine and eat about a few million pieces of Andes mint chocolate. I think the chocolate has worked its way into my bloodstream because I can see clearly now (.."the rain has gone! I can see all obstacles in my way!").
For the interested, let me just say here and now that the workload in my final semester in OVERWHELMING. A very good example of the weight of work would be last Friday: a debate (we won), a Marketing quiz (I passed) and
THREE
articles (I dieded).
Other shite in my toilet (what a horrendous analogy):
1) Creating a magazine for Journalism 2. We're called The Budget-
We're not Cheap, We're Free
.
2) Finishing up Social Psych assignment and preparing for its presentation.
3) Economics assignment.
4) Marketing assignment which I really, really don't know what it's about.
5)
Dinner and Dance stuff
. It's next Saturday, OMG! I can't believe all that planning it finally coming alive.
6) Photo postcards assignment for Feature Writing.
7) Possibility of
another
debate against the winning team of the PR class. OHDEARGODPLEASENO.
To say that I needed a vacation would be an understatement. There was one planned for Penang this Thursday but has been postponed due to some matters. But it's all good I suppose, I'm going up in October. Finally. I think it's been a decade since the last visit. O.o So going to just lie around and be waited on when I'm there. AHAKS!
On the plus side of doing so many assignments is that I got to go visit Music Xchange last Thursday. I've heard so much about it and always wanted to go but never had the chance, but the ed of The Budget assigned me and
Regina
to do a review on it and OMG, that place is such an eye-opener and jaw-dropper.

It's on Jalan Walter Grenier..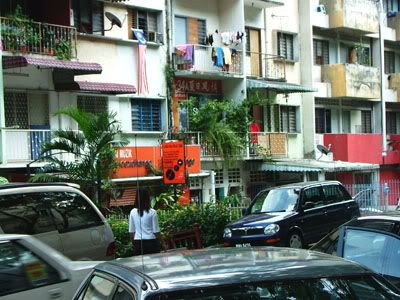 .. along this row of shophouses. Hint: it is blindingly orange.


And if you're blind or something and CAN'T, for some reason spot the orange among the drab, then just look for the bloody yellow VW.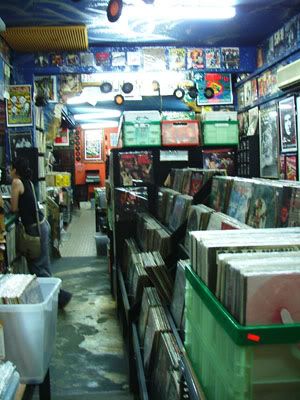 One step inside and I was so, so amazed. The collection of vinyls, CDs, records, posters and other paraphernalia is MASSIVE. It's like High Fidelity, KL-style.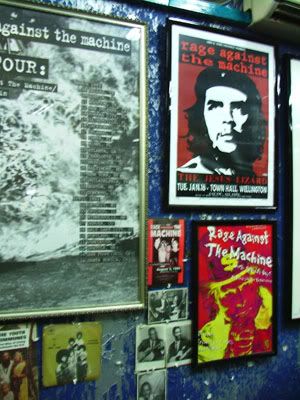 A wall of Rage Against the Machine posters on one side..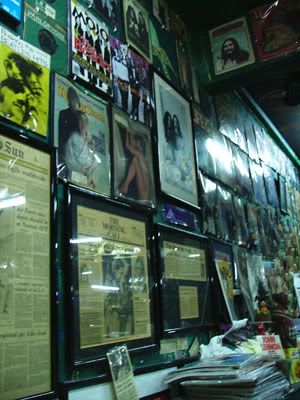 .. and more eye-popping-ly, a WHOLE WALL of Beatles' stuff. Vinyl, magazine covers, etc. Just... woah.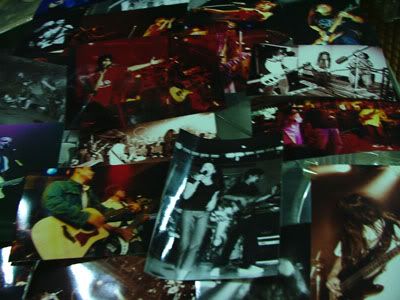 Pictures from the concerts/gigs the owner went for when he was freelancing.
And last Saturday,
I found my prom dress
. Oh sweet relief. I was beginning to think that I'll never find it as have looked everywhere. And I found shoes as well. In one day. *smug* Girls, you know that's rare. :p I would put up a picture but
Meesh Kebab
said NO! YOU HAVE TO SURPRISE PEOPLE! ETC!
*deep breath* Ya know. Who needs pills when you have mindless blogging to cure that twitch?